Welcome to
CartChunk.org
home of the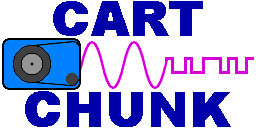 The Radio Industry's Traffic Data WAVE File Standard
Now formally ratified as AES46-2002!
Introduction
Frequently Asked Questions
Technical Overview/Summary
Participating Vendors
WAVE samples and Applications
Development/Consulting
Contact us
CartChunk.org is developed and maintained as a public service
by Dick Pierce and Geoff Steadman,
with the generous help and advice of many others.
Web technical support provided by Ed MacKenty.